Managing blood glucose during exercise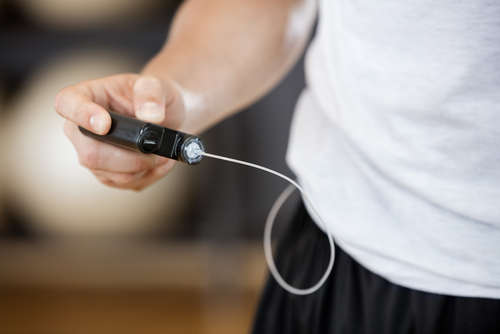 Everybody responds slightly different to exercise. Following the advice below is a good place to start but you may need to make changes depending on what happens to your blood glucose levels.
You have 3 options for keeping your blood glucose controlled during exercise. Some people use a combination of these strategies:

Reduce your insulin before exercise
If you exercise less than 2 hours after a meal, make a 50% reduction in the quick-acting (bolus) insulin taken with the meal before exercise.

Take an additional carbohydrate during exercise
30 – 60g of quick-acting (high GI) carbohydrate (e.g. 6 – 12 large jelly babies) per hour of exercise is a good place to start. It is best not to take all the carbohydrates in one go, but to take some extra carbohydrates every 20 minutes during exercise.
If you use the Freestyle Libre, you can adjust your carbohydrate intake depending on the direction of the arrows:


Alter the order of exercise if you are doing mixed activities
Remember that aerobic exercise reduces glucose and anaerobic increases glucose levels.
If you are doing a mixture of activities you can change the order depending on your starting glucose
If your pre-exercise glucose is a bit high, start with aerobic activity
If your pre-exercise glucose is at the lower end, start with anaerobic activity
Sprinting for 10 seconds at a time can be a useful way of bringing up glucose that is falling, but this is not a way of treating hypoglycaemia. YOU CAN NOT TREAT HYPOGLYCAEMIA WITH ANAEROBIC ACTIVITY OR 10-SECOND SPRINTS
Whilst it is important to avoid hypoglycaemia, you should also try to avoid very high glucose levels during exercise as this will impact your exercise performance and could lead to keto-acidosis if not corrected
Planning order of gym events
The diagram below gives some guidance on what blood glucose levels will do depending on your sequence of exercise: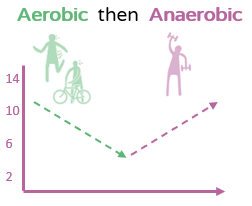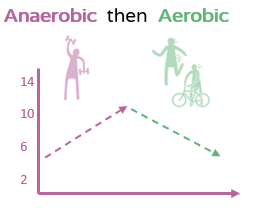 ---
Comments:
Comment by alex- 82 on 28/07/2022 at 11:15 AM

2 things –
"You have 3 options for keeping your blood glucose controlled during exercise:" – might be worth adding either as part of this sentence or maybe at the end that some people use a combination of strategies.

The Freestyle Libre table should really go up a bit under "Take an additional carbohydrate during exercise"





---

Comment by Scott. M. on 15/08/2022 at 4:05 PM

isCGM -> CGM
in table





---

Comment by Scott. M. on 15/08/2022 at 4:10 PM

The aerobic then anaerobic graph really looks like the BM goes down as low as 2 then rises with anaerobic exercise – think this needs changed as its in conflict with the maim message that you cant treat a hypo with anaerobic exercise





---

Comment by Kirsten. C. on 23/08/2022 at 11:11 AM

Emailed about the last comment Scott





---